Spearing Magazine Vol 8.1: Triple C Spearguns March 19, 2015
From the Atlantic to the Pacific my friends and I were in a new environment, a remote island off Baja felt like Jurassic Park. Mother Nature graced us with a gentle giant, the largest body of water in the world was slick calm. Humpback whales played in the distance, their songs audible underwater while we searched rocky reefs that hold prehistoric sized fish.
I floated on a long drift across the smooth surface, my mind wandered as I moved down current. I took a deep breath and kicked down till I was slightly off the bottom, where I could see how strong the current really was. Drifting past rocks hidden from the surface, I let the water do my work as I explored the underworld with minimal effort. Briefly, I inspected my Triple C Speargun, the three-wave logo chiseled into the blond teak. Often, underwater is where I think about improvements to make on my speargun designs, while it is in my hands, doing what it is made to do.
Adrift, I scanned the underwater topography, a grouper slowly made his way towards me. Staying relaxed, I moved my all teak handle to my palm, placing my other hand on the padded butt.
When I raised my neutrally buoyant speargun, he threw his round pectoral fins out in protest. Not interested in a head-on shot, I waited until his curiosity wore off, when he turned sharply, I pulled the smooth stainless steel trigger releasing the glistening Mori spear that penetrated right behind his gills. I kicked to the surface, using my hand as the drag while the Gulf Grouper ripped the floatline through my grip. At the surface I kept constant pressure but let him have line, waiting for him to rock up, but he never did. When a grouper wants to fight like a wahoo, I guess you fight him like one! I pulled the line hand over hand, allowing him to make his runs. Finally, I pulled him to the surface. The first large grouper of the trip, now this is what I came to Baja for!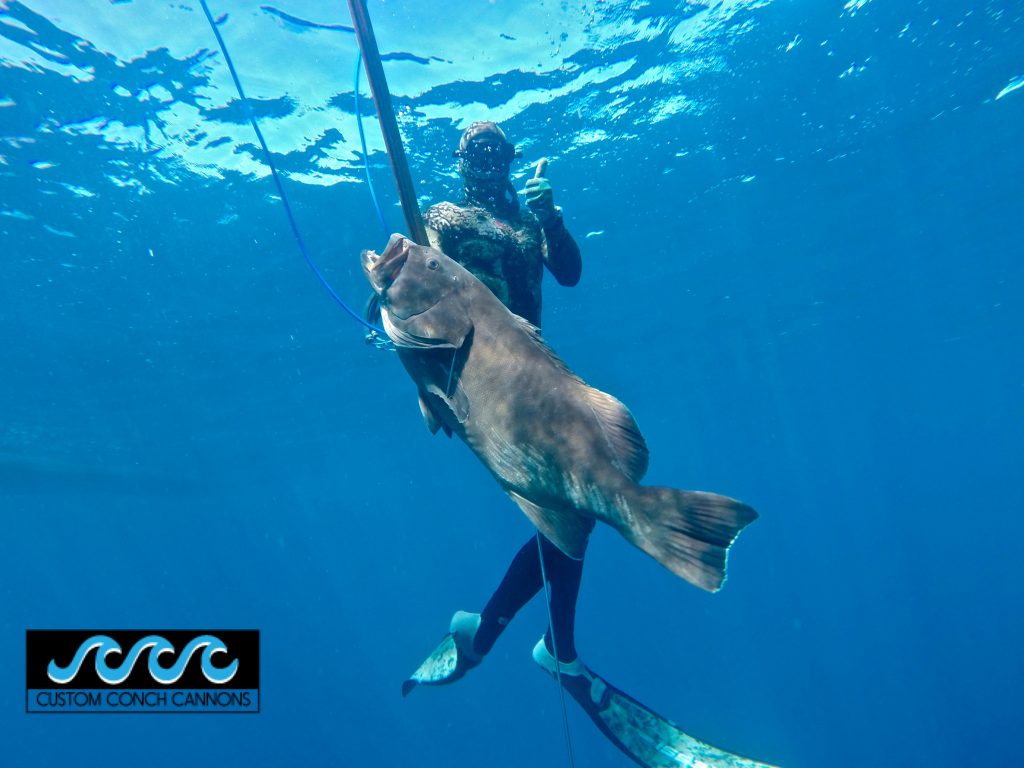 Spearfishing has proven to be an exhilarating and unexpected journey. I started at age eleven, by fifteen, I stopped buying spearguns and began building my own. Triple C Spearguns started in our family's art studio, Harrison Gallery in Key West, Florida.
In 1979, my parents sailed to Key West in a 38ft sailboat that they built in Costa Rica. In 1986 they bought a two-story house with a space for a gallery next door. My mother, began sculpting wood selling her pieces in Harrison Gallery, still in operation 30 years later. My father used his boatbuilding skills to restore houses, build guitars, and furniture among his other professions. With the help from their background of working with tools, woods, epoxies and resins used for the marine environment coupled with my knowledge of spearfishing, I began designing, building, and using these spearguns.
Reflecting back to my first speargun exhibition at Harrison Gallery. The next day, December 20th 2013, I removed a new 60'' speargun from the wall and went bluewater spearfishing. I shot my first two wahoos that day, the bigger weighing 65 pounds. That season I landed nine wahoos on my first nine trigger pulls, all in the 40-65 pound range. This made me take Triple C Spearguns more seriously.
While writing this article exactly one year later, I went to reef west of Key West. Freediving with my Custom Conch Cannon I helped land a monstrous Cubera snapper that weighed 108 pounds. This fish bent three spears, ripped two floppers off and popped my mono, before I was able to wrestle him out of his cave and bring him to the surface. This majestic fish that I have tremendous respect for will surly influence my future.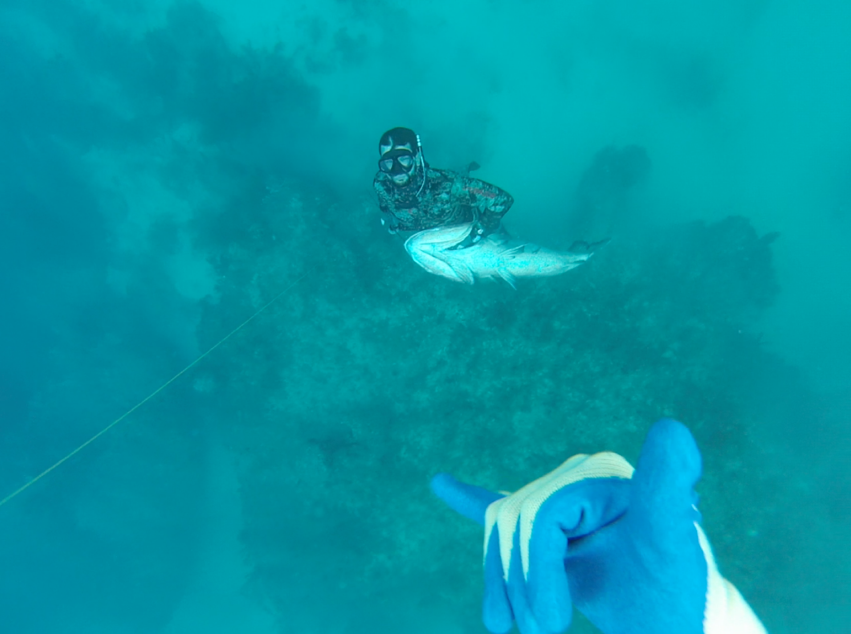 At 24-years of age, I have built over 20 Triple C Spearguns most of them custom-built (to order). One of my great joys is working with customers to insure they get the best speargun to suit their needs. With a simple sleek design these spearguns are made with only the best materials. I believe with simplicity comes function and with quality parts comes a quality product. Every Custom Conch Cannon is unique, water tested, and accompanied with a lifetime warranty.
Triple C Spearguns are functional art with the proven ability to land large fish. If you are looking for a unique and mechanically superior speargun, check out my website at www.CustomConchCannons.com. Here you can find a variety of photos, videos, an exciting blog, and ways to contact me.
When I am not crafting or testing Triple C Spearguns, I captain private fishing, spearfishing, lobstering, snorkeling, and sandbar charters out of Key West, Florida. It will be Grouper season before you know it book your charter today!