Sea of Cortez Spearing November 23, 2014
We felt the engines throttle-up as the nose of the plane lifted off the Dallas runway. Next stop was Baja, Mexico for a 10-day spearfishing trip with four spearo friends. We touched down in San José del Cabo and made our way three hours north to spear the fish rich Sea of Cortez for one day. Then we would be heading to the Pacific side to hunt monster grouper. We had been worrying about hurricane "Vance" stirring up the waters right before we arrived. Three day before we flew, our destination was smack in the middle of the projected cone. Expecting the worst and hoping for the best, we reach the camp. The cover of night hid the water conditions but we were informed the forecast looked promising. The hurricane had dissipated into a small tropical storm and moved south, it looked like we were going to have the calm after the storm.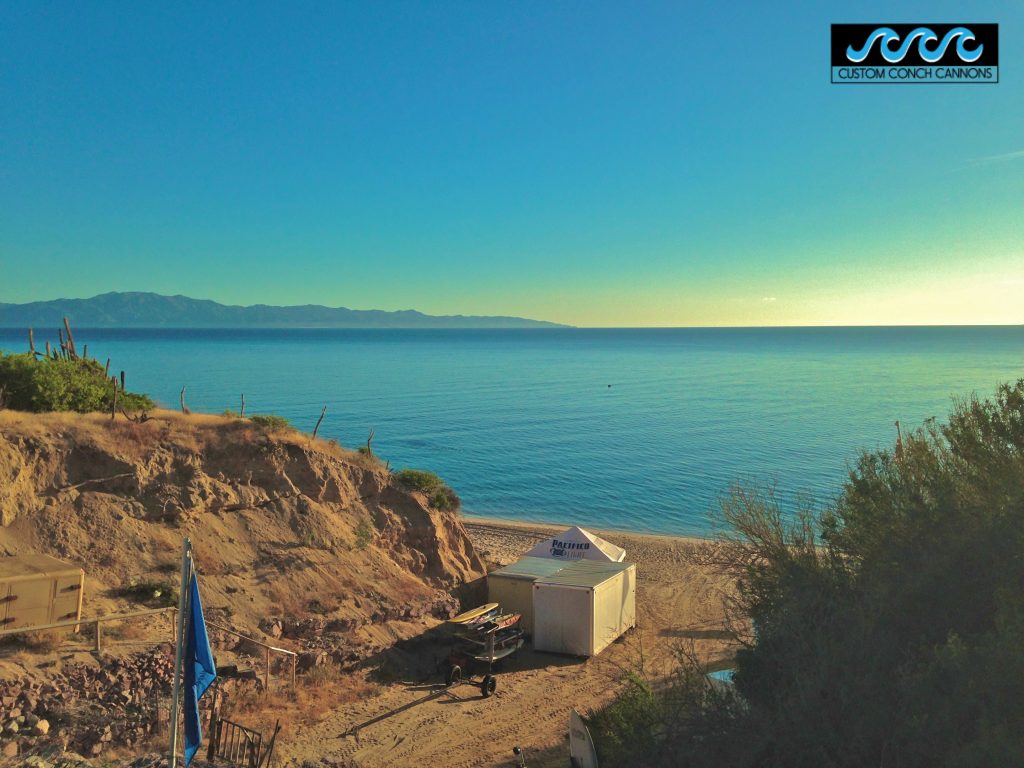 The first morning we rose from our little "casitas" with the sun. The Sea of Cortez looked like a lake! Excitedly we quickly ate and loaded the two panga boats, three divers to each. Alan, Chandler, and I hit the rocky reefs off Isla Ceralvo, while Roberto, Christian, and Brandon on the other boat went for pelagic fish. Our guide's name was Ish, he was a local guy from La Paz. Throughout our trip he continuously proved to be a great help.
The visibility was top to bottom from the boat as we hopped in and warmed up on a shallow 40 foot reef. I'm a firm believer that the first shot of a trip is an important one, whether it's a one-day or a 10-day trip. I was using my brand new 64" Triple C Speargun that  had only been test fired.
It was slow going for most of the day, but a few spots later, I was tipped off by Chandler there was a grouper off the edge so I dropped to 65 feet. A leopard grouper was slowly swimming away from me. I lined up a 15-foot shot. With my hand gripping the all-teak handle I gently pulled the smooth trigger and hit him square, right behind the gills. On the same breath I ascended with my grouper very pleased with my Triple C's performance. With dinner taken care of my focus was solely on the elusive pargos.
We started to see more pargos (Cubera snapper) on the reef but they were very smart and skidish, disappearing under large ledges and caves in 60-70 feet before we could dive on them. We briefly moved to the blue water for pelagics but were greeted by greenish water. Our guide, Ish, got us in the boat and we moved to the fourth spot around the mountainous Isla Ceralvo.

I hopped in first, the water was 60 feet on the rock reef and 70 feet to the sand and it was the clearest and fishiest spot yet. Within in the first minutes while loading my speargun I saw a wahoo and a big pargo! The wahoo was in sixth gear mid-water under me, a deep blue torpedo that was fast as lightning! It happened so fast I had to think about what I just saw. Shortly after a large pargo with a thick dark brown body, accented with vertical white stripes came into view. He didn't stick around after he spotted me floating at the surface.
After many trial and error attempts on these pargos I tried a new technique. I saw a school of five nice pargos swimming off the ledge. I kept in the distance not to spook them as I prepped for a dive. They eventually noticed me and started swimming to the boulders. I saw three go into the same crack. I filled my lungs with air and dropped to the large flat boulders. The crack was a deep, skinny passage. I saw the big dark brown snappers dart across the gap and got excited.
I attempted to time one up and… Boom! I quickly hip fired my powerful speargun blasts straight into rock! I kooked it!
I try to unlodge my slip-tip but it was a solid two inches deep in the rock bottom, stuck. It was a terrible shot on my part.
Flustered, I called the boat over and grabbed my other Triple C Speargun rigged with a small reel. I descended expecting that I spooked all the fish. Before I tried to get my other spear I took a look deep in the crack, my head was near the stuck tip. In this upside-down position about knee deep I saw a fluttering large brown tail under the ledge, with no shot there I backed myself out of the crack for another angle. With my speargun aimed and ready I looked into another entrance to find a different snapper staring at me. I pulled the trigger, Shlink! I hit him in the head, he turned white as I pulled him out of the rock without a struggle, stoned!
On the boat I'm ecstatic as the 20-pound fish turned bright red and I snapped a few photos. Now I just had to retrieve my spear marked by my float line and buoy. I grabbed an extra three-pound lead and the captain dropped me up current. I dove with the weight in my hand at the end of my extended arm leading the way. Once again deep in the crevasse I used the lead weight as a hammer and successfully got it out with only a minor fixable bend.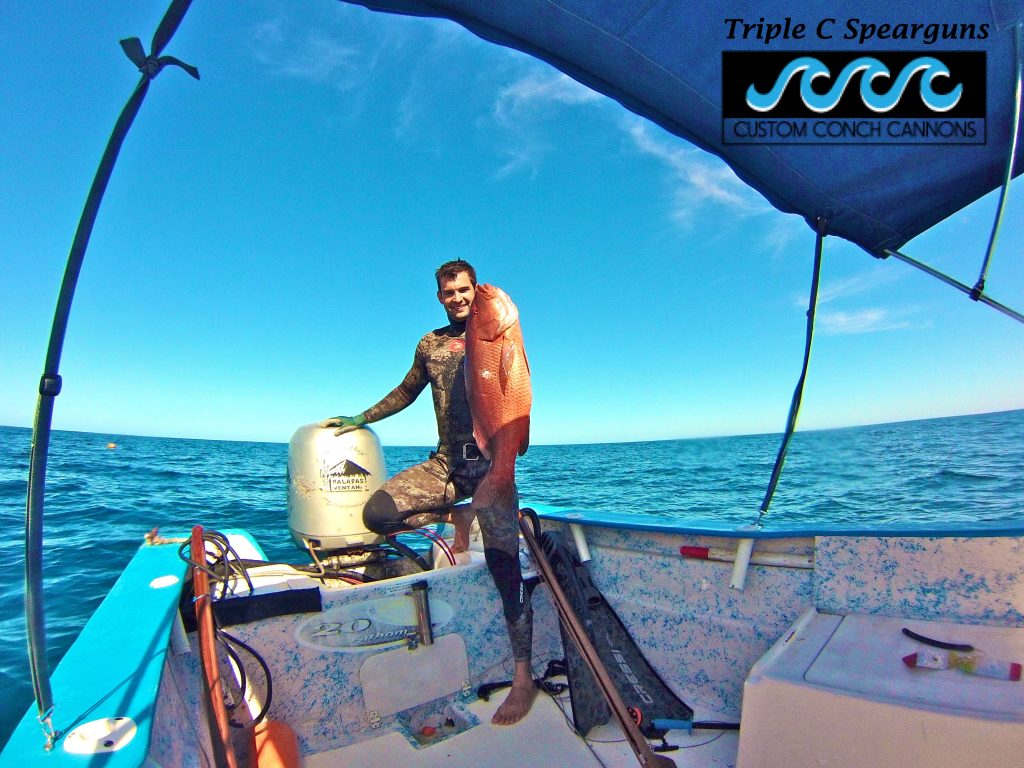 With my targeted fish in the boat and a bent slip-tip, I just drifted with my smaller reel gun trying to get a drop on another nice pargo. I lifted my head to look at a bait ball and to my surprise a 30 pound wahoo was checking me out. Calmly, I called my buddy with something more that my small reel with 100 feet of line. That fish would easily take my spear and all my line, no reason to be greedy. I put my head back in the water and I just saw the tail disappear like a ghost. I was just grateful to see those awesome fish in the water.
I was the lucky one that day spearing the only fish on our boat. The captain beached the bow, the other boat was celebrating and cleaning their four wahoos on the beach. Happy with my first pargo I tipped the captain and gave him my leopard grouper for his family.
That night we enjoyed Pacifico Claras (the beer made in Baja), wahoo sashimi, pargo head soup, diablo marlin tacos, followed by a good night rest. We had a long trek the following day to the Pacific side!